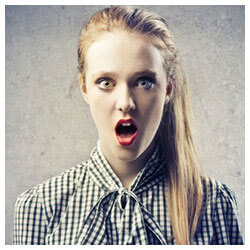 Chat up lines that are either quite smooth or such that you'll probably never want to use. Here you find one, whatever your needs - silly, cheesy, corny, dirty or nerdy? Pickup lines for anybody.
No seriously, if you do use some of these pick up lines, be advised, you are doing so at your own risk - and that risk might be, in some cases, considerable! Good luck!
---
Hey, did you buy those pants on sale? Cuz at my place they're 100% off!
---
Do you care for raisins? OK, what about a date then?
---
My friends bet me that I wouldn't get to start a conversation with the most beautiful girl here. Shall we buy some drinks with their money?
---
You: Do you have a map?
Her: No, why?
You: Because I just keep getting lost in your eyes.
---
Hi, I was just talking to my friend and he was wondering whether you think I'm cute.
---
Oh wow! Are those real?
---
I'm sorry, you owe me a drink. [Why?] You see, when I looked at you, I dropped mine.
---
Can you please give me your number? I'd like to call you and apologize for my intrusion.
---
Hi, I've lost my teddy, do you think you could cuddle with me instead?
---
Does this cloth also smell like chloroform to you?
---
Between 1 to America, how free are you tonight?
---
Do you believe in love at first sight, or should I walk by again?
---
Your hand looks so heavy. Here, let me hold it for you.
---
Excuse me, you seem to have something in your eye. Yep, it's a sparkle.
---
Tada, I'm here. What were your other two wishes?
---
Wow, you must be a real dictator because I'm experiencing an uprising.
---
Are you my appendix? Because I don't understand how you work but this feeling in my stomach makes me want to take you out.
---
I'm not drunk, I'm just intoxicated by you.
---
First Part Funny Pick Up Lines

Part 1
|
Part 2
|
Check out all our funny categories: