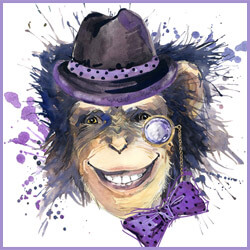 Birthday Jokes and Funny Birthday Wishes
---
It's my wife's birthday tomorrow. Last week I asked her what she wanted as a present.
"Oh, I don't know," she said . "Just give me something with diamonds."
That's why I'm giving her a pack of playing cards.
---
Q: What was the average age of a cave man?
A: Stone Age!
---
Clown at birthday party, annoying kid wants to see magic trick, don?t do magic, annoying kid, drop yer pants turn around and bend over, feel my thumb in yer ass?,
[hand gesture showing one thumb and then the other]
---
A boy asked his rich uncle for a cowboy outfit for his birthday.
So the uncle bought him a used car dealership.
---
Thank you for your birthday wishes on Facebook. Who are you by the way?
---
Patient: Doctor, I get a strong stinging feeling in my eyes every time I eat a birthday cake.
Doctor: Next time, blow out the candles.
---
From a certain age, birthdays are like a reverse countdown.
---
Boyfriend: How come you didn't get me a present for my birthday?!
-
Girlfriend: Well, you did tell me to surprise you.
---
I wanted to make you a rum cake for your birthday. But now I am drunk and I've just eaten the cake.
---
Son, happy birthday to you.
Now you are an adult and can take care of your own life and determine what is best for you.
At least until you are married.
---
Happy Birthday. Soon you can laugh, sneeze, cough and pee at the same time.
---
Knock-knock!
Who's there?
Abby!
Abby who?
Abby Birthday to you!
---
Next Part Birthday Jokes and Birthday Wishes

Part 1
|
Part 2
|
Part 3
|
Part 4
|
Part 5
---
Check out all our funny categories: