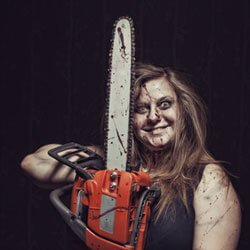 The Best of Black Humor / Dark Jokes
---
Q: What happened to the entertainer who did a show for the cannibals?
A: He went down really well!
---
I was lying in bed last night, I got scared: "What if I died right now from very immensely, incredibly delayed crib death?"
---
I think my neighbor is stalking me as she's been googling my name on her computer.
I saw it through my telescope last night.
---
Evil, mean, morbid and sarcastic jokes, quite tasteless and lacking class. Enjoy!
Only nowadays there appeared a possibility to realize yourselfe: sell your liver, kidneis, skeleton...
---
Why are cemeteries surrounded with walls?
-
Because people are dying to get in there.
---
Even people who are good for nothing have the capacity to bring a smile to your face, for instance when you push them down the stairs.
---
A teenage boy to his father: "Father, I am not a virgin anymore."
Father: "Wow that's great. Come, let's sit down and drink something to celebrate this moment."
Son: "Ok, I can drink with you but I really cannot sit down for a while."
---
A priests asks the convicted murderer at the electric chair, "Do you have any last requests?"
"Yes,̶`; replies the murderer. "Can you please hold my hand?"
---
For Sale: Parachute. Used once, never opened, small stain.
---
I was hiking once with my girlfriend. Suddenly a huge brown bear was charging at us, really mad. We must have come close to her cubs. Luckily I had my 9mm pistol with me. One shot to my girlfriend's kneecap was all it took. I could walk away at a comfortable pace.
---
A chubbier woman: Mirror, Mirror on the wall, who's the fairest of them all?
-
Mirror: "Kindly move aside. I can't see anything."
---
Little Johnny: "Mom, can I get a dog at Christmas, please?"
Mother: "No, you'll be getting turkey, like every year!"
---
What do you call people who use the temperature method of contraception?
Parents.
---
Doctor: You're obese.
Patient: Whoa, for that I definitely want a second opinion.
Doctor: You're quite ugly, too.
---
A blind man walks into a bar. And a table. And a chair.
---
Next PartBest Black Humor Jokes

Part 1
|
Part 2
|
Part 3
|
Part 4
|
Part 5
|
Part 6
|
Part 7
|
Part 8
|
Part 9
|
Part 10
|
See also:
New jokes
---
Check out all our funny categories: