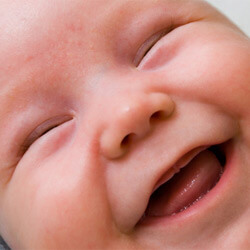 Kids jokes
---
Little girl: "My baby brother is only one year old but he has been walking, now, for six months."
Little boy: "My goodness… isn't he awful tired?"
---
Little Bobbie, while at a neighbor's, was given a piece of bread and butter, and politely said "Thank you."
"That's right, Bobbie," said the lady. "I like to hear little boys say "thank you"."
"Well," rejoined Bobbie. "If you want to hear me say it again you might put some jam on it."
---
How do you get 27 kids to carve a statue? Have everybody chip in.
---
What do kids like to eat in the playground? Recess Pieces.
---
Little Kenny is about to have a big test and his father says: "You better study real good boy, 'cause if you don't pass that test, you can forget that you're my son!"
The next day Kenny comes home and his dad asks him how he did in the test.
Kenny looks at him and says, "And who are you, dude?"
---
Mother is waking her son: "Paulie, come, wake up, you have to go to school."
-
"Aw mom, just a bit more sleep, please."
-
"No, it's really high time, now get up."
-
"But I don't want to. The children annoy me and the teachers are a complete pain!"
-
"Stop it, now. Get up and off to school with you!"
-
"Mom, give me two good reasons why I should go to the stupid school."
-
"Paulie, first of all, you're 45, and second, you're the headmaster."
---
Q: Why did the cow cross the road?
-
A: It wanted to go to the mooovies.
---
Q: How does a celebrity stay cool?
-
A: By keeping close to his fans.
---
Q: How do you make a tissue dance?
-
A: Just needs a little boogey!
---
What is the strongest creature in the world? The snail. It carries its whole house on its back.
---
Q: What did the pencil say to the other pencil?
-
A: Hey, looking sharp today!
---
Why do hens lay eggs? Because if they were throwing them, they'd break!
---
Teacher to Paul: "Wake up, Paul! You can't sleep in class!"
-
Paul to teacher: "I could actually, it's just that you're a bit loud."
---
Where do pencils spend their vacations?
-
In Pencilvania.
---
Daughter asks her mother, "Mum, how long have you been married to dad?"
-
"Ten years."
-
"Oh, and how many do you still have left?"
---
A prisoner is finally released, after many years in jail. He stands at the pavement, yelling, "I'm free! I'm free!"
-
A little kid walks up to him happily and joins, "I'm four! I'm four!"
---
Why is it that bicycles fall over so often?
-
They are two-tired.
---
Dad on the last day of school: So, where's your school report, my boy?
Tom: Sorry, I'll bring it a day later.
Dad: Why?
Tom: I borrowed it to Kevin because he wanted to scare his parents.
---
Next Part Kids Jokes

Part 1
|
Part 2
|
Part 3
|
Part 4
|
Part 5
|
Part 6
---
Check out all our funny categories: