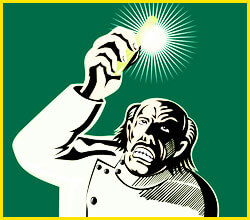 Funny Chemistry Jokes and Puns
---
Q: What is the chemical formula for "banana"?
A: BaNa2
---
I asked the guy sitting next to me if he had any Sodium Hypobromite…
He said NaBrO
---
Did you know that you can cool yourself to -273.15˚C and still be 0k?
---
Why are so many chemists addicted to alcohol?
Because they are sure alcohol is a solution.
---
Old chemists don't die, they just become inorganic chemists.
---
The bartender says, "Get out of here. We do not want your kind!"
A quicker-than-light neutrino walks into a bar.
---
Water said to oleic acid that they cannot be together. Oleic acid still thinks it is because she's fat.
---
Did you hear that oxygen and magnesium went on a date? I mean… OMG!
---
Chemists are crap as assault soldiers. They don't have the element of surprise.
---
Chemists make really bad DJs. They take extra care not to drop the base.
---
Wanted: Schrödinger's Cat. Dead or Alive.
---
What is the difference between organic chemistry and zoology? Organic chemists study organic compounds. Zoologists study organic compounds that run around.
---
The real problem is not to create a perfect universal solvent, but to find something you could keep it in.
---
Next Part Best Chemistry Jokes

Part 1
|
Part 2
|
Part 3
|
Part 4
|
Part 5
|
Part 6
|
Part 7
---
Check out all our funny categories: