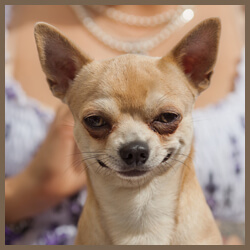 Funny Dog Jokes and Puns
---
Just realized a pregnant dog is a dog full of puppies. That's the best.
---
What does Shakespeare say when he is angry with his dog? Out, out, damned Spot!
---
How do dogs order eggs at restaurants? Pooched.
---
A three-legged dog walked into a saloon in the Old West. He sidled up tothe bar and announced, "I'm looking for the man who shot my paw."
---
I'm considering removing my dog's tail.
My mother in law comes next weekend and I intend to get rid of anything that would give her the impression that she is welcome.
---
I went to the zoo – and all they had was one small dog.
It was a shih-tzu.
---
What is the difference between a dog and a mailbox?
[Don't know]
OK, in that case I think I'll mail that letter myself, thank you.
---
Go on, ask a dog how's life.
He'll most likely answer, "Ruff! "
---
Q: What has 4,000 eyes and 8,000 legs?
A: Two thousand dogs.
---
Q: What's the difference between a dog yapping outside a house and a woman yapping outside a house?
A: The dog shuts it once you let it in.
---
Q: What do you call a blind dog?
A: A dog that usually barks up the wrong tree.
---
Next Part of Dog Jokes

Part 1
|
Part 2
|
Part 3
|
Part 4
|
Part 5
|
Part 6
|
---
Check out all our funny categories: