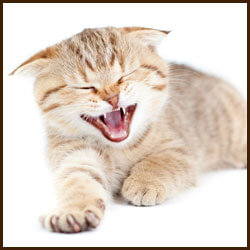 Funny Cat Jokes | Cat Humor
---
Nature abhors a vacuum, but not as much as a cat does.
---
Q: What do you get if you cross a cat with a dark horse?
A: Kitty Perry
---
Why did the cat join the Red Cross? So it could become a first-aid kit.
---
What does a cat say when he likes something? It's purrrfect.
---
In the middle of the desert one cat says to the other,
"Oh boy, I have to pee so badly."
"Why don't you just do it?"
"I can't. There is no litter box."
---
A woman gets a hysterical phone call, "Your cat ate my canary!!!"
Woman, "Thank you for telling me. I don't have to feed her today then, right?"
---
I had to get rid of the boyfriend.
My cat got allergic to him.
---
Two cats are sitting in front of bird's cage and observe a newly arrived green canary.
One cat says to the other, "It really is a strange color for a bird. Maybe he's not ripe yet."
---
Q: Have you heard about the cat who climbed the Himalayas?
A: She was a renowned sher-paw.
---
A cow says to a small kitten, "Look at you, so small and already such long facial hear."
The kitten cooly replies, "Yeah, look at you, so big but still no bra."
---
How did the cat get the first prize at a bird show?
Somebody didn't shut the champion's cage properly.
---
Q: Why is it so rare to see a cat doing online shopping?
A: Because they prefer the cat-alogue.
---
"My wife loves cats. But she's got 40 of them and they cause a gruesome smell in our flat."
-
"I guess you should air more often to battle that."
-
"No can do, if we opened the windows, my 150 pigeons would fly away"
---
Q: Where did the school kittens go for their field trip?
A: To the mewseum
---
Next Part of Cat Jokes

Part 1
|
Part 2
|
Part 3
|
---
Check out all our funny categories: