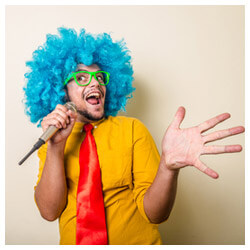 The Best Anti-Jokes!

Jokes that are so bad, dumb and silly,
they are actually really good
---
What did sushi A say to sushi B?
Wasa-b!
---
Why should you not write with a dull pencil?
Because it's pointless.
---
What do you do when you cross a joke with a rhetorical question?
---
What do you call a guy who never farts in public?
A Private Tutor!
---
What is small, grey and triangular?
The shadow of a green triangle!
---
Two tomatoes walk across the street. On of them screams: "Careful there is a truck com...SPLASH!!!!"
---
Last words of a highly poisonous snake? "Drat, I bit myself on the tongue!"
---
A guy orders at a bakery, "I'd like 19 buns please." The baker suggests, "I think you should take 20, sir." "Why?" asks the man, puzzled. The baker replies, "That way, you would have one more!"
---
What do you call a boomerang that doesn't come back?
-
A stick.
---
What do you call an alligator that's wearing a vest?
An investigator.
---
Next Part of the Bad Jokes

Part 1
|
Part 2
|
Part 3
|
Part 4
|
Part 5
|
Part 6
---
Check out all our funny categories: