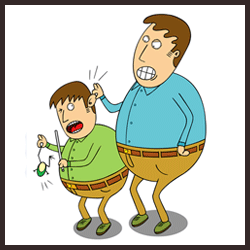 Little Johnny Jokes
---
Little Johnny: Mom, do you know what I'm going to give you for your birthday
Mom: No, dear, what?
Little Johnny: A nice teapot.
Mom: But I've got a nice teapot.
Little Johnny: No you haven't. I've just dropped it.
---
Little Johnny asks, "Mommy, where do babies come from?" His mother replies, "The stork brings them." Little Johnny, puzzled, asks, "Then who fucks the stork?"
---
A teacher was teaching her second grade class about the government, so for homework that one day, she told her her students to ask their parents what the government is. When Little Johnny got home that day, he went up to his dad and ask his what the government was. His dad thought for a while and answered, "Look at it this way: I'm the president, your mom is Congress, your maid is the work force, you are the people and your baby brother is the future.'' "I still don't get it" responded the Little Johnny. "Why don't you sleep on it then? Maybe you'll understand it better," said the dad. "Okay then...good night" said Little Jonny went off to bed. In the middle of the night, Little Johnny was awakened by his baby brother's crying. He went to his baby brother's crib and found that his baby brother had taken a crap in his diaper. So Little Johnny went to his parent's room to get help. When he got to his parent's bedroom, he looked through the keyhole to check if his parents were asleep. Through the keyhole he saw his mom loudly snoring, but his dad wasn't there. So he went to the maid's room. When he looked through the maid's room keyhole, he saw his dad having sex with his maid. Little Johnny was surprised, but then he just realized something and thinks aloud, ''OH!! Now I understand the government! The President is screwing the work force, Congress is fast asleep, nobody cares about the people, and the future is full of s**t!''
---
Little Johnny walks into his dad's bedroom and sees him sliding on a condom. His father tries to hide it by bending over, as if to look under the bed.
Little Johnny asks curiously, "What are you doing, Dad?"
His father quickly replies, "I thought I saw a mouse go underneath the bed."
Little Johnny replies, "What are you gonna do -- screw him?"
---
The teacher heard Little Johnny use some serious language and was shocked. "Little Johnny, don't you ever use language like that again, not near me, not ever. Where on earth did you learn that?"
"I've got it from my dad, Miss," replies Johnny.
"Well, your daddy should be ashamed. I hope you don't know what all that even means."
"Oh but I do," says Johnny. "It means the car won't start."
---
---
Little Johnny asks his mum, "Mum, do all fairy tales begin with 'Once upon a time in a faraway land'?"
"No darling," says his mother, somewhat distressed, "Sometimes, they can begin with 'I've got too much work in the office tonight, I'll come home later'."
---
Little Johnny was sent back to bed for the tenth time that evening and his mommy is not amused. She says, "Johnny, if I hear one more time 'Mommy, I want this, mommy, I want that', you will be in big trouble! I don't want to hear the word mommy again tonight. Now off to bed you go!" There's a short pause, after which Johnny says hesitantly, "Mrs Lambden, I want a glass of water, please."
---
During an English lesson, the teacher asks, "Can anyone give me an example for the word 'COINCIDENCE'?"
Little Johnny volunteers, "Sir, my mum and dad were married on the same day."
---
Teacher tests Little Johnny, "OK, Johnny, create a sentence which starts with 'I'."
Little Johnny confidently starts, "I is..."
Teacher snaps, "No, Little Johnny. You must always say, 'I am'."
Little Johnny sighs, "Yes ma'am. 'I am the ninth letter of the alphabet.'"
---
Little Johnny plays "shoot the apple from the head" with his friends. The first shot lands directly in his eye. "Ooowww man, you got me right in the eye!" he complains to his friend.
But the other friend also wants a go and persuades Johnny that he is a much better shot. But bingo, the second shot gets Johnny in the other eye.
Johnny gives up: "Well I've had it with this game, I'm going home. Mom said I should come back once it gets dark anyway."
---
Little Johnny walks a cow through the village square. The mayor sees him and asks, "Hey Johnny, where are you going with the cow?"
"I'm taking her to the bulls so she would get pregnant," answers Johnny.
The mayor is shocked, "Surely your father had better be doing that?"
Little Johnny thinks about it for a bit and shakes his head, "Nah, I think it's really best left with the bulls."
---
A teacher in Sunday school once asked Little Johnny, "Johnny, do you believe in the Devil?"
"No," said Little Johnny knowledgeably. "It's just like with Santa Claus. I know it's really my dad."
---
Teacher asks his class one day, "What would you like to be when you grow up?"
Johnny answers first, saying, "I will follow in my father's footsteps and become a policeman."
Teacher raises his eyebrows, "Johnny, I didn't know your father is a policeman."
"Well, he isn't," explains Johnny. "He's a burglar."
---
Mother, "Johnny, if you keep being this naughty, you'll get kids who will be very naughty to you!"
Johnny, "Oh mom, you just betrayed yourself there, didn't you?"
---
After Sunday school, the teacher released the kids to go to church and reminded them, "You all know to be very nice and quiet in the church. And why is that?"
Little Johnny offers, "Miss, it's so we wouldn't wake all those people sleeping."
---
"Teacher: "I hope I didn't see you looking at Timmy's test paper?"
Little Johnny: "I hope you didn't see me either!""
---
Next Part of the Best Little Johnny Jokes

Part 1
|
Part 2
|
Part 3
|
---
Check out all our funny categories: