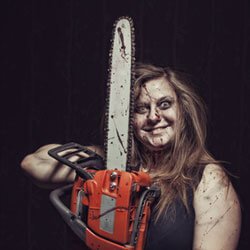 The Best of Black Humor / Dark Jokes
---
You know you're ugly when you get handed the camera every time they make a group photo.
---
I took my wife's family out for biscuits and tea.
They weren't very happy about having to donate blood though.
---
Son, Mommy, mommy, daddy hanged himself in the attic!
Mother, What??!!
Son, Gotcha, April's fool! He hangs in the garage.
---
They say the surest way to a man's heart is through the stomach. But personally, I find going through the ribcage a lot easier.
---
My Grandfather has the heart of a lion and a lifetime ban from the Atlanta Zoo.
---
A guy asks his waiter at a restaurant how they prepare their chicken.
The waiter goes blank for a second, then says, "Nothing special really... We just tell them they're going to die..."
---
Next PartBest Black Humor Jokes

Part 1
|
Part 2
|
Part 3
|
Part 4
|
Part 5
|
Part 6
|
Part 7
|
Part 8
|
Part 9
|
Part 10
See also:
New jokes
---
Check out all our funny categories: