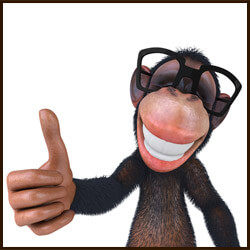 Really Funny Clean Jokes
---
Daddy reads some bedtime stories to make little Jonny fall asleep.
Half an hour later mommy opens quietly the door and asks: "And, is he asleep?"
Little Jonny answers: "Yes, finally."
---
What should you do when you see a spaceman?
You just park in it, man.
---
Mummy, where were you when I was born?
In the hospital.
And daddy?
At work.
That's great. So nobody was home when I arrived.
---
Two clairvoyants meet. One says to the other: "You are fine, and how am I?
---
Two days ago, my friend Peter ran off with my wife."
"Oh no, how long have you been friends?"
"Since two days ago."
---
"What's the name of your new dog?"
"I don't know. He won't tell."
---
What did one wall say to the other wall?
-
We'll meet at the corner.
---
Teacher: "OK class, who will give me the chemical formula for water?"
Pupil: "HIJKLMNO."
Teacher: "What on earth are you on about?"
Pupil: "Well you said yourself yesterday it was H to O!"
---
What do you call a bull that likes taking a nap?
-
A bulldozer!
---
What did the toilet roll complain about?
"People just keep ripping me off!"
---
Q: Can a kangaroo jump higher than the Empire State Building?
A: Of course. The Empire State Building can't jump.
---
First Part Clean Jokes

Part 1
|
Part 2
|
Part 3
|
Part 4
|
Part 5
---
Check out all our funny categories: