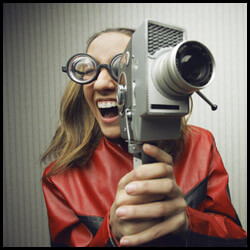 75 of the Best Youtube Videos
---
A toilet paper makes Chewbacca sound (STAR WARS).
---
A bike continues the race without the driver.
---
Bambi farts.
---
Funny advertisement: German coast guard tries to speak English.
---
Very high table tennis strike. Everybody is amazed.
---
Napoleon Dynamite's epic dance.
---
A kid shows a hilarious way to slide.
---
A chameleon is changing colors really fast.
---
An ape is doing sit ups while a dog is holding his legs.
---
Two drunk guys trying to build a tent.
---
This is a Turkish Chuck Norris. Except instead of men, he beats up women.
---
Probably a blonde that wants to get out of her parking lot.
---
A man tries to photocopy his bottom and falls into the photocopier.
---
A goal keeper gets the ball in his face. Again and again.
---
58
Very funny video:
TV commentator farts and laughs about herself.
---
Teo Jansen Wind Sculptures (WindWalkers)
---
Funny cat video. Cats that smell feet. Their facial expressions are priceless. ...hahahahh
---
Guys playing table tennis with a soccer ball and their heads.
---
Funny beer glass holder. You can even dance with it.
---
This guys pranks French police officers.
---
Next Partof Fanny Video

Part 1
|
Part 2
|
Part 3
|
Part 4
|
Part 5
|
Check out all our funny categories: