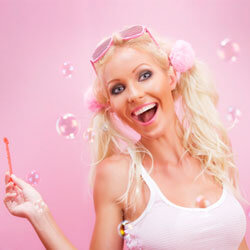 The Best Blonde Jokes!

* A small note to start with: It is NOT OK to use blonde jokes, even the really hilarious ones, to make actual people feel bad. That's a game that has no winners and nobody has ever gotten any friends worth the name.

Everything you give out will have an influence on you, so it's best to give out something positive. And while you're at it, why not enjoy these truly mean and ridiculously funny jokes, just, you know - for academic purposes!
---
How do you break a blonde's nose?
-
Put 50 US$ in the lower shelf of a glass-top table and say: "Here, it's for you!"
---
Q. Why do blonde women often get confused in the loo?
-
A. They're not used to pulling their own pants down.
---
Q: How can you tell a blonde has been making choc chip cookies?
-
A: There are Smarties shells all over the kitchen floor.
---
A blonde girl asks, "Excuse me, where is the other side of the street?"
"Over there."
The blonde frowns, "Funny, they sent me here from over there..."
---
What does one blonde's leg say to the other when they meet?
-
"Oh hey, that's nice, I've not seen you in ages!"
---
Q: How to drown a blond girl?
A: By placing a mirror at the bottom of a pool.
---
Why do blondes sometimes invite as many as 17 friends for a movie night?
-
Because the DVD says "Only for 18+ viewers"!
---
Why do blondes smile during a lightning storm?
-
They want to look good in the photograph.
---
Q: What should you do if a blonde tosses a grenade at you?
-
A: Pull out the pin and throw it back.
---
A man walks by a blonde, who is holding a pig. The man asks, "Where did you get her?"
-
The pig answers, "I won her at the fair."
---
Next Part of Blonde Jokes

Part 1
|
Part 2
|
Part 3
|
Part 4
|
Part 5
|
Part 6
---
Check out all our funny categories: