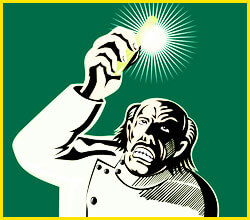 Funny Chemistry Jokes and Puns
---
Titanium is a right old slut. It combines with just about anything when it gets in a heat.
---
Why is it not a good idea to get romantically involved with a hemiacetal? Because he is seriously unstable and always has some alcohol.
---
All this arguing whether the glass is half full or half empty is futile. It is always full, only in varying ratios of liquid and gas.
---
What is H2O4? It's for drinking, washing, gargling… you name it.
---
I got this fantastic book about helium. It is impossible to lay down.
---
If you wished to be discreet and inoffensive to the ladies of polite society, how would you write diarrhea? (CO(NH2)2)2
---
What to do with a chemist who's gotten sick? If you can't curium and you can't helium, find a good spot to barium.
---
Sometimes, Cesium and Iodine get together and watch telly. CSI is their preference.
---
My experiment blew up, annihilating the entire lab. But that's life, oxidants happen.
---
Wait, are all these jokes too basic for you? Because I see no reaction.
---
Next Part Best Chemistry Jokes

Part 1
|
Part 2
|
Part 3
|
Part 4
|
Part 5
|
Part 6
|
Part 7
---
Check out all our funny categories: