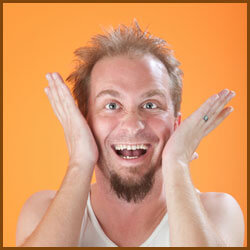 Good Old Dad Jokes
---
Do you know Beethoven's favourite fruit?
The ba-na-na-naaaa…
---
Daddy, can I hold your hand?
-
Nah, that's very kind but it's not that heavy.
---
Two penguins meet. One says, "Jesus it is cold today.
The other hisses, "Shut up. Penguins can't talk."
---
"What is a bunny without a carrot?"
-
"Hungry!"
---
Q: What happens to mountains when they touch each other?
A: nothing.
---
Did you hear about the new movie constipation? It hasn't come out yet.
---
When did John McEnroe arrive at Wimbledon?
About tennish.
---
Two walls arrange a date – "I'll meet you at the corner."
---
How do you make a paper tissue dance? You put a little boogie in it!
---
Dad, I'm hungry!"
"Oh hello Hungry, I'm Dad!"
"But I'm really hungry!"
"And I'm really Dad."
---
Why didn't the Orange drive when the lights turned green again? No juice!
---
"Dad, can you make me a sandwich, please?"
Dad: "Abrakadabra, you are now a sandwich!"
---
I told my dad that he should embrace his mistakes. He had tears in his eyes. Then he hugged my sister and me.
---
Q. Dad, can you put my shoes on?
A. I don't think they'll fit me.
---
Next Part of Dad Jokes

Part 1
|
Part 2
|
Part 3
|
Part 4
|
Part 5
|
---
Check out all our funny categories: