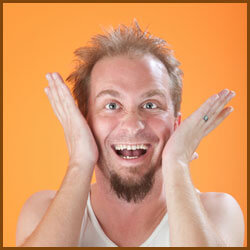 Good Old Dad Jokes
---
They've opened a new shop recently, and it has everything. It's called Moderation.
---
What would you call a person who had no body and no nose?
Nobody knows.
---
How many pears grow on a tree? They all do.
---
There's this fascinating book on glue – I just can't keep my hands off it.
---
What swims and starts with a T?
-
Two ducks."
---
"I'll call you later!"
"Please don't do that. I've always asked you to call me Dad!"
---
What is a contradiction?
Asking a bookstore shop-assistant to show you where the Self-Help section is.
---
Do you know how to make somebody curious?
I'll tell you tomorrow!
---
Vegetarian is an old Indian world. Originally, it means "a bad hunter".
---
Two cows meet, one says, ";Mooooo!"
-
The other one is offended, "Hey, I just wanted so say that!"
---
Do you know where you can learn to make the best ice cream?
At Sunday school.
---
What is sticky and brown?
A stick!
---
First Part of Dad Jokes

Part 1
|
Part 2
|
Part 3
|
Part 4
|
Part 5
|
---
Check out all our funny categories: