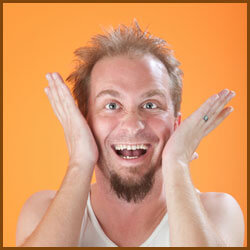 Good Old Dad Jokes
---
"Dad, can you call mom's phone? She can't find it."
"Absolutely! 'Mom's phone! Mom's phone!'"
---
When life gives you lemons, politely but firmly say "No thank you".
---
I went to choir practice. My dad told me not to forget a bucket. I asked why. Dad said, "You'll need something to carry your tune."
---
Dad to his daugher: "Never forget, sweetie, you're unique, like everyone else."
---
Dad to his overweight daughter: "Oh sweetie. Don't worry. Real men like curves, only dogs like to play with bones."
---
Have you heard there was a kidnapping at the school? But it's fine now, the kid woke up again.
---
Having a twelve-inch long nose is anatomically impossible. At that point, it would become a foot.
---
Whenever the cashier asks my father if he would like the milk to be put in a bag, my dad happily replies, "Nah, it can stay in the carton!"
---
You will never hear the pterodactyl relieve himself. Their pee is silent.
---
We used to live in a really bad Italian neighborhood. It was called the Spaghetto.
---
Next Part of Dad Jokes

Part 1
|
Part 2
|
Part 3
|
Part 4
|
Part 5
---
Check out all our funny categories: