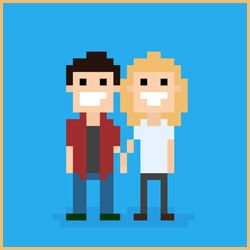 Short and Funny Marriage Jokes
Arguing with your husband is fun, even if he wins... he loses.
---
Quote:
"Some people ask the secret of our long marriage. We take time to go to a restaurant two times a week. A little candlelight, dinner, soft music and dancing. She goes Tuesdays, I go Fridays."
Henry Youngman
---
A wife hangs up after about a half-hour on the phone. The husband is surprised, "Wow, that was quick - usually you women are at it for two hours at least!" "Yeah, well, it was a wrong number."
---
One easy step to lose an argument with a wife: 1) Argue.
---
A boy asked his father, "Dad, how much does it cost to get married?"
Father grimly replied, "I wouldn't know son, I'm still not done paying for it."
---
Q: Why did God create Adam first and Eve as second?
A: Because he wasn't interested in listening to anyone telling him how to make Adam.
---
What four words are guaranteed to depress a husband anytime, anywhere?
'Hold my purse honey.'
---
A man sits in a restaurant and cries. The waiter comes and asks what happened. The man replies: "My wife told me that she wouldn't talk to me for a month." The waiter replies, "Oh no, that's horrible!" Man: "Yes!!! (Sobs) Today that month is over."
---
Women are saints. They forgive you even when you're not guilty!
---
My wife told me to go and get something that would make her look sexy. So I got drunk.
---
I told my wife she was drawing her eyebrows too high. She looked surprised to hear it.
---
My wife told me I was one in a million. When I looked through her text messages, I had to admit she was right.
---
She: "Honey, I don't like you with the new glasses on."
He: "But sweetheart, I don't wear any glasses."
She: "True, but I do."
---
My wife said I ruined her birthday.
I'm not sure how I did that, I didn't even KNOW it was her birthday!
---
Next Part Husband and Wife Jokes

Part 1
|
Part 2
|
Part 3
|
Part 4
|
Part 5
|
---
Check out all our funny categories: