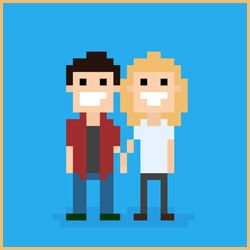 Short and Funny Marriage Jokes
---
Woman to her husband while at it: "Please say dirty things to me!"
Man: "Bath, Kitchen, Living room..."
---
A man and his wife have to go to a doctor. The doctor asks, "Do you share the same blood group?"
The husband replies, "We must by now. She's been sucking my blood for years."
---
My wife and I had very happy twenty years. After that we met.
---
What's the difference between a bachelor and a married man? Bachelor comes home, checks out what's in the fridge & goes to bed. Married man comes home, checks out what's in the bed & goes to the fridge.
---
I went through an expensive and painful procedure yesterday, having had my spine and both testicles removed. Still, some of the wedding presents were fantastic.
---
Two friends meet. One says, "My husband got me a huge bouquet of roses the other day. Now I'll have to spread my legs for two weeks."
The other one asks, bemused, "What, you don't have any vases?"
---
How do you turn a fox into an elephant? You marry it.
---
My son wanted to know what it's like to be married. I told him to leave me alone and when he did I asked him why he was ignoring me.
---
"Shall we make a nice weekend for each other, honey?"
"Oh, that would be lovely, Georgie!"
"Fantastic! Well, see you Monday."
---
Why do they call it the "mother tongue"? Because the man never gets to put a word in.
---
Wife: "Our new neighbor always kisses his wife when he leaves for work. Why don't you do that?"
Husband: "How can I? I don't even know her."
---
First Part Husband and Wife Jokes

Part 1
|
Part 2
|
Part 3
|
Part 4
|
Part 5
|
---
Check out all our funny categories: