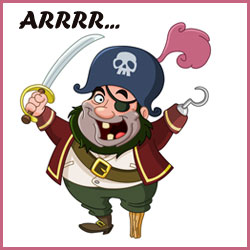 Very Funny Pirate Jokes and Puns
---
Q: Who was the first pirate?
A: Noah, the builder of the Arrrrk.
---
Q: Why don't pirate marriages last much?
A: Because of all the arrrrguments.
---
Q: Do you know how to make a PIRATE very angry?
A: You take away the P.
---
Q: What does the pirate say when he steps on a Lego?
A: Arrrrrgh!!!
---
Q: Why did the pirate cross the road?
A: To reach the second hand shop.
---
As a kid, I had to walk the plank.
We were so poor we couldn't afford a dog.
---
Q: Why are pirates bad at cards?
A: It's kind of hard to play when you're sitting on the deck.
---
Rob the Pirate was drinking rum all night.
He thought he'd feel better in the morning if he drank some hot water – but it only made him groggy.
---
How do pirates know that they are pirates?
They think so, therefore they arrr.
---
Q: What's the difference between a pirate and a strawberry farmer?
A: The pirate buries his treasure, the farmer treasures his berries.
---
Bonus Pirate Joke
---
Q: Why do pirates make great lawyers?
A: Because they're very skilled at arrrrrguing.
---
Q: Why is it so hard for pirates to learn to read?
A: Because they spend months and months at C.
---
Q: What happened when Bluebeard the Pirate fell overboard in the Red Sea?
A: He got marooned.
---
First Partof Pirate Jokes

Part 1
|
Part 2
|
Part 3
|
Part 4
|
Part 5
|
Check out all our funny categories: