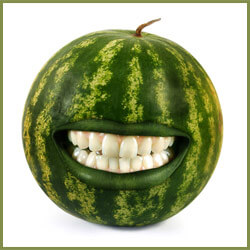 Pun Intended
---
Q: Why did the lights go out?
A: They liked each other a lot.
---
They found a hole in the wall of the women's soccer team changing rooms.
The police are looking into it.
---
What to call a bear who's lost all its teeth? – A gummy bear!
---
When I was young, I used to think facial hair looked really stupid, but then it grew on me.
---
A group of termites marches into a saloon and ask: "Is the bar tender here?"
---
Who said grapes are soft? They never cry when you step on them, they just let out a bit of wine.
---
Why did the banana have to go to the doctor?
It wasn't peeling too well.
---
The future, the present, and the past walk into a shady bar.
Things get tense.
---
A bacon sandwich walks into a bar and orders a whiskey.
"Sorry," growls the bartender, "we don't serve food here."
---
They're building a restaurant on Mars now. They say the food will be great, but they're worried about a lack of atmosphere.
---
Do you know how Moses makes his tea? Hebrews it!
---
I heard Apple is designing a new automatic car. But they're having trouble installing windows.
---
Why didn't the toilet paper go down the water slide like everybody else?
Well, he got stuck in the crack.
---
Coffee is the silent victim in our house. It gets mugged every day.
---
"What's the difference between glue, a tuna and a piano?"
"No idea."
"You could tuna piano, but you couldn't piano a tuna."
"Oh. And what's with the glue?"
"I knew you'd get stuck there."
---
I was recently diagnosed with color-blindness. It came out of the green.
---
Q: Why did the lights go out?
A: They liked each other a lot.
---
Why couldn't the bicycle stand up by itself? It was two tired.
---
Next Part of Best Puns

Part 1
|
Part 2
|
Part 3
|
Part 4
|
Part 5
|
Part 6
---
Check out all our funny categories: