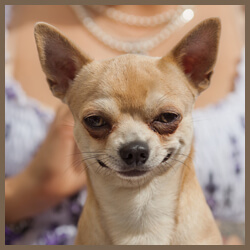 Funny Dog Jokes and Puns
---
Dog dictionary
a.
Toilet bowl: A heavenly dispenser of nice, fresh water.
b.
Hearing: A variable skill.
Its intensity depends on whether it applies to a fridge door opening half a mile away behind three closed doors, or whether your own name is being shouted in an angry way or in a way that threatens Vet (see Vet).
c.
Garbage bin/bag: Source of food.
Spread contents over as wide an area as possible.
d.
Drooling: When humans are eating, drooling can be a very effective food-producing skill.
For best results, drool must be gotten onto the humans' trousers/skirt.
Use also for fun – when driving in a car with humans, place head between two humans in the front seat.
Drool gently and in great volume on their arms/shoulders.
Rejoice at effects.
e.
Resting place: Anything, really.
White, freshly vacuumed surfaces with good capacity for getting hair stuck to it are best.
f.
Sofa: See resting place.
Also serves as napkin after particularly satisfying meals (see Roadkill).
g.
Vet: Satan, the Destroyer of Worlds, Bringer of Woe, Remover of Testicles.
h.
Leash: A device allowing you to lead your human to a place you desire.
Excellent for muscle-building exercise.
i.
Bicycle: Very good cardio equipment.
If you find the exercise/the rider too slow for you, you can increase its speed by running even closer to the vehicle and barking.
It will pick up its pace very satisfyingly.
j.
Fireworks: A sure sign that the world as we know it is coming to an end and the reign of Vets (see Vet) is beginning.
k.
Sniffing: A polite way of showing interest in the creature you are meeting.
With dogs, rectal area is best.
When meeting humans, sniff the crotch.
l.
Roadkill: One of the most universal items you can find.
Can be used as food, deodorant or toy.
---
Dogs are the best alarm clocks.
When they want out, there's no snooze button that could tame that.
---
Will sell dog.
Easy-going.
Eats anything.
Loves children.
---
Q: Why is a dog superior to a flea?
A: A dog can have a flea but a flea can't have a dog.
---
Q: What is a caterpillar's biggest natural enemy?
A: A doggerpillar.
---
Q: What market shouldn't you take your dog to.
A: The flea market.
---
Q: What looks like a dog, lives in a dog house, eats dog food and is extremely dangerous?
A: A Rottweiler with a black belt in karate.
---
"They say the dog is man's best friend.
I don't believe that.
How many of your friends have you neutered?"
– Larry Reeb
---
Q: Why did the dog lie down?
A: He found lying up a little hard.
---
Q: Why did the dog cross the road?
A: To catch the chicken.
---
Cats are smarter than dogs. You can't get eight cats to pull a sled through snow.
---
First Part of Dog Jokes

Part 1
|
Part 2
|
Part 3
|
Part 4
|
Part 5
|
Part 6
|
---
Check out all our funny categories: