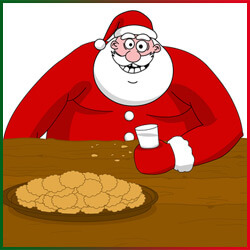 Funny Christmas Jokes
---
How do we know Santa is a man?
No woman with an ounce of dignity would wear the same outfit for so many years running.
---
Mum, are we going to have Grandpa Joe for Christmas?
No, darling, Just the turkey.
---
What is a correct name for an old snowman? Puddle.
---
How do reindeer amuse themselves during the long year?
They play stable-tennis.
---
What is the equivalent of a superdeath laser gun for snowmen?
A hairdryer.
---
What did the reindeer say when he was spotted one Christmas Eve by Little Johnny?
Nothing, reindeers don't talk.
---
There will be no Christmas anymore. I told Santa that you have been good the whole year. He died of laughter.
---
Santa has a good employment package. 1 month – Santa Claus, 11 months – Santa pause.
---
Dear Santa, this year, I really don't need you to bring me anything. Actually, could you possibly take away my mother in law?
---
What does Santa say when he's sick?
Heave-ho-ho-ho!
---
Next Part of the Best Christmas Jokes

Part 1
|
Part 2
|
Part 3
|
Part 4
|
Part 5
|
Part 6
|
Part 7
|
Part 8
|
---
Check out all our funny categories: