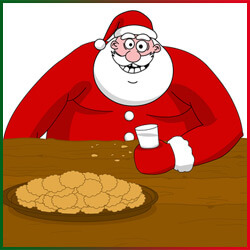 Funny Christmas Jokes
---
A good sign for a toy shop at Christmas: We speak ho-ho-ho here!
---
I heard some strange chatter from the spice cupboard mid-December. But it was just the Season's greetings.
---
It is really embarrassing how Santa ends up having the same wrapping paper like your mum and dad.
---
And who brings present to little sharks who've been good the whole year?
Santa Jaws!
---
Why do storks fly south for the winter?
Because it would take forever if they walked.
---
We have an entire year to go till Christmas and there's already Christmas decorations everywhere, incredible.
---
Everybody loves a snowman. Snowmen are cool!
---
Where would Santa hide gifts for his elves?
In his clauset.
---
Sending letters to Santa up the chimney is definitely black mail.
---
What does Santa say when he enters the toy workshop near Christmas?
Alright everybody, sacking time!
---
What do snowmen eat for lunch?
Iceburgers!
---
Next Part of the Best Christmas Jokes

Part 1
|
Part 2
|
Part 3
|
Part 4
|
Part 5
|
Part 6
|
Part 7
|
Part 8
|
---
Check out all our funny categories: