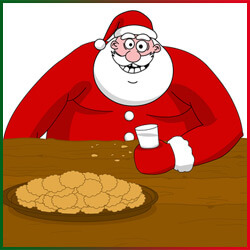 Funny Christmas Jokes
---
At Christmas, mother says to Little Johnny, "Go on and light up the Christmas tree Johnny."
Johnny runs off happily and comes back after a while, asking, "Should I light up the candles, too?"
---
"Christmas is less than two weeks away. I do most of my shopping online. But I hire someone to honk and scream obscenities at me while I'm doing it so I get the whole holiday shopping experience." –Jimmy Kimmel
---
Why do spies rarely enjoy the Christmas holidays?
They hate giving away their presence.
---
What keeps falling but never gets hurt?
The snow.
---
Christmases are always quite hard on the turkeys, but at least they don't go hungry. In fact, they are stuffed since morning!
---
Funny how the year you stop believing in Santa is roughly the year you start getting socks and clothes for Christmas.
---
"Christmas is a time for remembering. So that's me f***ed." Ozzy Osbourne
---
What goes oh-oh-oh? Santa doing the moonwalk.
---
What is invisible and smells like milk and cookies? Santa's burps.
What is invisible and does NOT smell like milk and cookies? Santa's farts.
---
A Christmas prophecy: Yule be hearing lots of carols. Lots.
---
I heard of a guy who shoplifted an Advent calendar. He got 24 days.
---
Who delivers presents to baby sharks at Christmas?
Santa Jaws!
---
First Part of the Best Christmas Jokes

Part 1
|
Part 2
|
Part 3
|
Part 4
|
Part 5
|
Part 6
|
Part 7
|
Part 8
|
---
Check out all our funny categories: