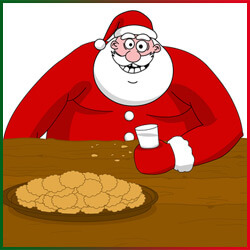 Funny Christmas Jokes
---
Advent calendars are an inspiration to us all. They are so jolly – and yet their days are numbered…
---
Where does Santa send the elves' wages?
To the snow bank.
---
What kind of a bike does Santa ride in his spare time? A Holly Davidson.
---
Doctor, I can't get rid of the idea that I'm a Christmas bell, please help!
– Very well, take these pills twice daily and if the Jedi knights have an extra advantage at Christmas. They can feel the presents.
---
Lisa thanks her grandpa, "Thank you Grandpa for the violin you gave me last year for Christmas. I've never got such a brilliant gift!"
"Really?" asks the surprised Grandpa.
Lisa says, "Oh yeah - every time I start playing, mom gives me 2 dollars so I would stop!"
---
Little girl wrote to Santa, asking him to give her a baby sister for Christmas.
Santa replied promptly, asking her to send her mother.
---
"Merry Christmas, nearly everybody!" Ogden Nash
---
Little Johnny by the Christmas tree: "And are all these gifts from Santa?"
"Yes Johnny," beams his mother.
"Oh, so you didn't get me a darn thing again this year, did you."
---
Why would no bank ever give Santa a loan?
Because all his accounts are frozen.
---
An honest politician, a hard-working civil servant and Santa Claus find a 100 dollar bill. Who gets to keep it?
Santa does, the other two are creatures of myth and legend.
---
Next Part of the Best Christmas Jokes

Part 1
|
Part 2
|
Part 3
|
Part 4
|
Part 5
|
Part 6
|
Part 7
|
Part 8
|
---
Check out all our funny categories: