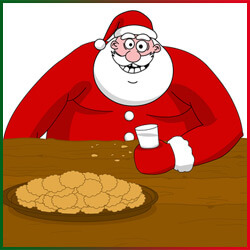 Funny Christmas Jokes
---
Why does Santa use reindeer to pull his sleigh?
Because huskies can't fly.
---
CNN reported news of an unidentified flying object on Christmas Eve.
It was a U-F-ho-ho-ho.
---
Santa once lost his undies. That is when the tradition of calling him Saint Knickerless started.
---
Why are there no chimney sweeps in Scotland?
Why pay for something that Santa does regularly for free?
---
How many gifts can Santa squeeze in an empty stocking? One. It's not empty after the first one.
---
Billy asks his friend Joe, "Why would you want two sets of trains for Christmas?!"
"Because I still want to get to play when my dad is home!"
---
What would it do to world order if you dropped your turkey on the way to the table?
It could mean the fall of Turkey, the breaking of China and a massively expanding Greece.
---
What does a bald guy say when you give him a comb for Christmas?
Oh thanks… I shall never part with it.
---
"Dad, and where is Santa from?"
"Well, judging by the majority of the gifts, I'd say he is from China."
---
y don't work, give me a ring.
---
Next Part of the Best Christmas Jokes

Part 1
|
Part 2
|
Part 3
|
Part 4
|
Part 5
|
Part 6
|
Part 7
|
Part 8
|
---
Check out all our funny categories: