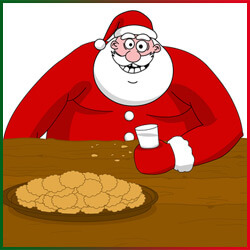 Funny Christmas Jokes
---
What is the key difference between snowmen and snowwomen?
Snowballs.
---
Why do Christmas trees suck at knitting?
They eventually drop all their needles.
---
A boy is running around his yard in early December, chanting, "I SO WISH I GOT A NEW BIKE FOR CHRISTMAS!"
An elderly man watches him go on for a while, then comes over and says, "Son, what is this about, Santa ain't deaf, you know?"
The little boy, out of breath, smiles, "He probably isn't, but my auntie Jane is."
---
Two women are chatting, "I took my husband to the Christmas market yesterday," says one of them. "And, did someone want to buy him?" asks the other.
---
What do you see when you look at a snowman rifling through a pile of carrots?
A snowman picking his nose.
---
I heard elves love to sing when they work on children's toys. They are very good wrappers.
---
What do you get when you make a snowman really, really mad angry?
Frothy the Snowman.
---
"The holiday season: A deeply religious time that each of us observes, in his own way, by going to the mall of his choice." Dave Berry
---
One turkey asks another, "Do you believe in life after Christmas?"
---
Santa is with us throughout our lives, although his presence can be categorized in four main stages:
1. You are a believer in Santa.
2. You are not a believer in Santa.
3. You pretend to be Santa.
4. You look like Santa without even trying.
---
Next Part of the best Christmas Jokes

Part 1
|
Part 2
|
Part 3
|
Part 4
|
Part 5
|
Part 6
|
Part 7
|
Part 8
|
---
Check out all our funny categories: