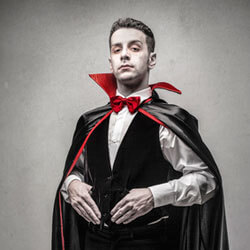 Amazingly Funny Quotes
Funny, witty, sarcastic, amazing - the best the cream of society came up with and was caught saying.
---
It's useless to hold a person to anything they say when they are in love, drunk or running for office.
-
Shirley MacLaine
---
There are three kinds of people in this world: those who make things happen; those who watch things happen; and those who wonder what the hell happened. - Anonymous
---
"Break the ice in a crowded elevator by asking how much everyone weighs."
–
Bill Murray
---
Just remember, if the world didn't suck, we'd all fall off.
-
Anonymous
---
People say money is not a key to happiness, but I always figured if you have enough money, you can have a key made.
-
Joan Rivers
---
The scientific theory I like best is that the rings of Saturn are composed entirely of lost airline luggage.
-
Mark RussellI
---
The reason I talk to myself is because I'm the only one whose answers I accept.
-
George Carlin
---
Opera is when a guy gets stabbed in the back and, instead of bleeding, he sings.
-
Robert Benchley
---
"Women should not have children after 35. Really… 35 children is enough."
---
I'm so broke, I can't even pay attention.
-
Anonymous
---
"Fish who are caught and released are like the aquatic equivalent of people who claim to have been abducted by aliens."
–
Bill Murray
---
The Bible tells us to love our neighbors, and also to love our enemies; probably because generally they are the same people.
-
G. K. Chesterton
---
A successful man is one who makes more money than his wife can spend. A successful woman is one who can find such a man.
-
Lana Turner
---
People say: "nothing is impossible", but I do nothing every day.
-
Winnie the Pooh
---
"I'm glad I don't have to hunt for my food, I don't even know where Sandwiches live."
–
Bill Murray
---
"Chips have little nutritional value. That's why you need to eat the whole bag."
–
Bill Murray
---
I've realized you can use a fork as a spoon if you use it rapidly enough.
-
John Mayer
---
When I was a kid my parents moved a lot, but I always found them.
-
Rodney Dangerfield
---
Next Part Funny Quotes

Part 1
|
Part 2
|
Part 3
|
Part 4
|
Part 5
|
Part 6
|
Part 7
|
Part 8
|
Part 9
|
Part 10
---
Check out all our funny categories: