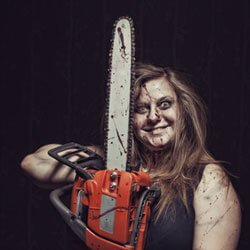 The Best of Black Humor / Dark Jokes
---
When a blind woman tells her boyfriend that she is seeing someone, it could either be a really terrible news or a really great news.
---
What did the cannibal do once he dumped his lady friend?
He wiped his bottom.
---
Famous last words of a bomb disposal expert?
Yes, the red wire.
---
A dyslexic man walks into a bra...
---
- Mommy, mommy, I found daddy!
- How often do I have to tell you not to dig around in the garden!
---
Doctor, please, my son ate some cement. What can I do?
First of all, don't give him anything to drink.
---
A magician comes to a seniors' home for entertainment afternoon: Aaaaand? Is everybody heeere?;
Seniors, enthusiastically, Yeaaaah!
Magician, winking, But not for looooong.....!
---
Join the Army, meet some fascinating people, then kill them.
---
If you see me smiling, I'm probably thinking of doing something evil.
If I'm laughing, I've already done it.
---
Strong people don't put other people down. They lift them up and slam them to the ground for maximum impact.
---
Next PartBest Black Humor Jokes

Part 1
|
Part 2
|
Part 3
|
Part 4
|
Part 5
|
Part 6
|
Part 7
|
Part 8
|
Part 9
|
Part 10
|
See also:
New jokes
---
Check out all our funny categories: