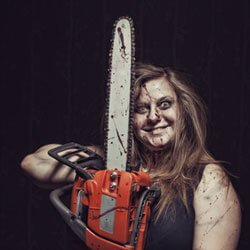 The Best of Black Humor / Dark Jokes
---
Patient: "Doctor! Doctor! Help me - I cannot feel my legs!"
Doctor: "Don't panic, that's perfectly normal. It's because I amputated your arms!"
---
A mom tells her son a joke; the son is embarrassed and says: "Mom, please don't tell any more jokes. You really can't make them."
The mom only shrugs and says, "Well – I did make you..."
---
What is the difference between a lawyer and an onion?
People usually cry when they cut an onion.
---
Never break someone's heart, they only have one. Break their bones instead, they have 206 of them.
---
Doctor tells his patient, "I'm afraid you are going to die in a few hours. What is your last wish?"
-
Patient replies, "I need a good doctor."
---
If I ever need a heart transplant, I'd want the heart of my ex-wife. She's never used it.
---
What is black and sticks to a tree?
A peeping tom after a forest fire.
---
Why do hurricanes get such lame names, like Sandy? Name that thing Hurricane Death Megatron 900 and I guarantee folks will be evacuating like they need to.
---
"Mother I really don't like the red soup"
"Be quiet child. We get it just once a month"
---
Next PartBest Black Humor Jokes

Part 1
|
Part 2
|
Part 3
|
Part 4
|
Part 5
|
Part 6
|
Part 7
|
Part 8
|
Part 9
|
Part 10
|
See also:
New jokes
---
Check out all our funny categories: